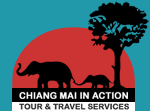 TAT License No.
23-0391
Chiang Mai Facts
Population:
City: 160,000
Province: 1.5 million
Area:
20,107 sq km
Altitude:
City: 300 m
Highest: 2,575 m
Location:
17°- 21° N
98°- 99° E
Chiang Mai -- Valley and Mountains
Chiang Mai province encompasses both fertile plains along the Ping River and high mountain ranges. As such it offers the visitor a look at traditional rural life in Northern Thailand and spectacular scenery, replete with waterfalls and dense forest.
Close to town are several areas engaged in the production of the many handicrafts available in Chiang Mai's Night Bazaar and throughout the country. Products include silk, lacquerware, saa paper (from the mulberry tree), silverware, celadon, as well as hand finished jewelry incorporating a variety of precious stones. Further afield, the province hosts Doi Inthanon, Thailand's highest mountain, to the south, and the beautiful Mae Sa valley and the rocky knoll of Doi Chiang Dao to the North. Here one can experience the many pleasures of nature, including, waterfalls, caves, rivers and wildlife.
Highlights
Doi Inthanon National Park
The slopes of Doi Inthanon, at 2,656 metres Thailand's highest mountain, are covered in beautiful scenery and wildlife. On the way up the mountain you will be able to visit several high waterfalls, and also stop off at tribal villages. Close to the summit are two modern chedis, built in challenging architectural styles. The neighboring gardens offer excellent views over the Ping valley.
Bor Sang and Sankamphaeng
Sometimes known as the 'Handicraft Highway', the road heading East from Chiang Mai is lined with over 30 factories engaged in all manner of handicraft production. Bor Sang town itself is often referred to as the 'umbrella town' on account of the many locals to be found manufacturing and painting umbrellas made from saa paper. A little further on, near the village of Sankamphaeng, is an extensive area of hot springs and geysers set amid a beautiful landscape. If you're feeling hungry, drop a basket of eggs in the water for a couple of minutes.
Chiang Dao Caves

Due North of Chiang Mai, about an hour's drive, is the massive limestone outcrop of Chiang Dao Mountain. Caves extend into the mountain for many kilometers, and feature huge grottoes and fascinating rock formations and deposits. Guides with gas lamps lead the way through the confusing tunnels, which seem never to end.
-- Chiang Mai Special --
4 Days / 3 Nights Tour of Chiang Mai
Including:
Elephant Riding, Tribal Villages and Bamboo Rafting in Sanpatong District
Wat Phra That Doi Suthep
Shopping in Handicraft Villages and the Night Bazaar
Doi Inthanon, Thailand's Highest Peak, and Wachiratharn Waterfall
Traditional Khan Toke (Northern Banquet) Dinner
For the full itinerary and price, take a look here.