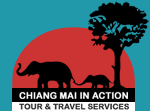 TAT License No.
23-0391
Tee Lor Su 5 Days / 4 Nights
Tee Lor Su (or Thilawsu) is Thailand's highest, and arguably most beautiful, waterfall. Located in the remote Um Phang district, Tak Province, on the Thai-Burmese border, the waterfall is surrounded by pristine forested mountains with many rare flora and fauna.
Our Tee Lor Su package provides the avid traveler with plenty of excitment and adventure in this stuningly beautiful part of the country. Read on for more details, then contact us to arrange your trip.
---
Day 1

Leave Chiang Mai in the morning, heading south. Our first stop will be at Wat Phra That Haripunchai in Lamphun, one of the North's most important temples. Afterwards we'll visit a jungle market, which sells many unusual products and foodstuffs from the forests, before moving on to Lampang, where you can explore Wat Phra That Lampang Luang, an ancient and magnificent temple.

Next we'll head west, reaching the lovely town of Mae Sot on the Thai-Burmese border in the early evening, where we'll spend our first night in a hotel.



Day 2

We'll leave the hotel in the morning and cross the bridge to visit the Burmese border town of Myawadi. After exploring, we'll take the 3 hour journey along the Mae Sot-Um Phang highway which winds through breathtaking mountain scenery. Before entering the town of Um Phang, we'll stop off at a Karen Refugee camp. We'll spend the second night in Um Phang town, nestled in the mountains.



Day 3

Begin the day with a 2 to 2 1/2 hour rubber rafting trip down the Mae Klong river. We'll pass by the amazing Tee Lor Jor waterfall, which falls into the river from an overhanging cliff, and also see Pha Phung, the mountain of bee hives. Along the way, we'll also navigate some exciting white water rapids, and stop off at a hot spring for some refreshing bathing.

After lunch, we'll make a 9 km (approx. 3 hour) trek to Tee Lor Su waterfall, the highest in Thailand. You'll be able to relax at this amazing waterfall before trekking another 1 1/2 hours to Cota, a Karen willage where we'll spenf the night.



Day 4

After enjoying the wonderful atmosphere and fresh air of the mountains in the morning, we'll take a 3 hour elephant ride to meet up with our truck again. In the late afternoon we'll head back to a resort where we'll spend our 4th night.



Day 5

It's a full day journey back to Chiang Mai, but we'll break the trip at the Mae Sot Border market, where you'll be able to see (and buy, if the fancy takes you!) a unique range of Thai and Burmese goods. We'll arrive back in Chiang Mai in the evening.



---