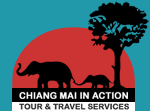 TAT License No.
23-0391
Destinations
Chiang Mai



Ancient Temples
Traditional Culture
Thailand's Highest Mountain
Chiang Rai


Stunning Scenery
The Golden Triangle
Hilltribes and Trekking

Mae Hong Sorn


Remote Area
Beautiful Town on a Lake
Long-Neck Padaung Tribe

Lamphun
Former Royal Capital
Haripunchai Temple
Traditional Northern Culture
Latest additions

Services: We're now offering comprehensive arrangement services for golf tours in Thailand and confereneces, meetings and seminars in Chiang Mai.

Quicklinks

-DIY Tours: your own car and driver
-Accommodation: The Bossotel Chiang Mai
-Chiang Mai Special: make the most of your stay

Tee Lor Su (5 days, 4 nights):
Join us on this adventurous 5 day trip to the highest waterfall in Thailand, Tee Lor Su, on a remote stretch of the Burmese border. There's plenty to see and do on the way, but the high point is rubber rafting along the Mae Klong River, through some of the country's most stunning jungle scenery.
Sergeant Kai Presents...
Chiang Mai in Action Tour and Travel Services
Chiang Mai in Action Tour & Travel Services offers you an opportunity to experience the best of Chiang Mai with the greatest of comfort and convenience. We promise you a wealth of brilliant memories of this land we love.
We can also take you further afield, to the neighboring provinces of Lamphun, Chiang Rai and Mae Hong Sorn, taking care of all transport and accommodati on needs along the way. Our contracts with hotels in all four provinces allows you to stay in comfort at the best value. Please feel free to contact us for more details of our hotel reservation services.
All our tour programs have been carefully planned to maximize your time and enjoyment. You can benefit from our many years of experience, and we know you'll appreciate how much we deliver in terms of options, variety and value.
We look forward to hearing from you soon,
Sergeant Kai
Looking for more independence than fixed itineraries permit? Why not hire a vehicle and driver and plan your own trip? We offer cars and vans for hire by the day, complete with a trained English speaking driver.
Car and Driver: THB 2000 per day (around US$ 65)
Our price is per vehicle and includes a full day's service, with pick up from your hotel. You will be required to pay for fuel and any entrance fees for attractions you visit.
Enquire for more details.
---
-- Chiang Mai Special --
3 Days / 3 Nights Tour of Chiang Mai
Including:
Elephant Riding, Tribal Villages and Bamboo Rafting in Sanpatong District
Wat Phra That Doi Suthep
Shopping in Handicraft Villages and the Night Bazaar
Doi Inthanon, Thailand's Highest Peak, and Wachiratharn Waterfall
Traditional Khan Toke (Northern Banquet) Dinner
For the full itinerary and price, take a look here.
---
-- Stay at the Bossotel --
Great Accommodation offer
Not sure where to stay in Chiang Mai? We recommend the Bossotel for the perfect blend of comfortable rooms, excellent service, comprehensive facilities and reasonable rates. And best of all, you can make your booking on this site.
---
A Little about Chiang Mai
Chiang Mai, famous for its beauty and the gentle nature of its people. The charm of Thailand's Northern rose lives on forever.
Founded in 1296 AD by King Mangrai, Chiang Mai was for centuries the principal city of the Lanna Kingdom, or the Kingdom of a million rice fields. The city flourished as a major cultural, religious and trading center until it was invaded by the Burmese in 1556. It remained a vassal state of Burma until the invader was eventually expelled by the King of Siam in 1776. Thereafter the Lanna Kingdom became part of Siam, and is today the most important city of Northern Thailand.
Many reasons combine to make Chiang Mai an essential stop on your holiday itinerary. The warm hearted locals will assure you of a memorable experience as you visit the attractive destinations the city and province have to offer. Wonderful mountain scenery, colorful hilltribes, striking flora and spectacular waterfalls provide the perfect backdrop for an exploration of the regions long history, rich with age-old traditions and pristine culture.
---
Got any questions?
Email us at catts@chiangmaitours.com.
Or fill in our contact form.
We accept Amex, Visa and Mastercard
Credit Card Authorization Form
Programs
Day Trips


Handicraft Shopping
Dinner Cruises
Natural Delights
1 - 3 Days


Golden Triangle
Mae Hong Sorn
Chiang Mai Special

Trekking


Tranquil Forests
Small Groups
Overnight in Tribal Villages
Custom Tours


Maximize Your Time
Convenient
Personalized Service